Baltimore Kickers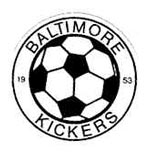 BALTIMORE KICKERS, INC.

FOUNDED: 23 September 1953

PURPOSE:  To promote soccer, the German language and German culture!

OFFICERS:
| | |
| --- | --- |
| President |   Bill Kelleher |
| 1st Vice President | Bill Long |
| 2nd Vice President | Rena Schuman |
| Treasurer | Pat Vogt |
| General & Corresponding Secretary | Coleen Bertsch |
| Recording Secretary | Jo Kilbourn |
| Financial Secretary | Michael Miller |
| Entertainment Chair | Melissa Larsh |
| Soccer Chair | Fran McGrath |
| Public Relations | Melanie Zwirlein |
| Culture Chairman | Hans Steffen |
| House Chairman |  Ray Lathe |
| Investment Chairman | John Larsh |
The BALTIMORE KICKERS, a German soccer club, has been in existence for more than fifty-five years. The club was founded when Eddie Thau, a former player of the Erster Deutscher Sport Klub, and Werner Juergensen, an immigrant from W. Germany, met and discussed the possibility of forming a German soccer team. The purpose was and is to promote soccer as well as the German language and the German culture.
Do you like to travel?  The club sponsors culture trips – both in the US and abroad.  A one week Christmas Market trip and a two week European trip are usually planned each year as well as weekend and day trips here at home.
We sponsor many activities during the year.  Among our activities are a Schlachtfest – Shrimp Feast – German Festival Weekend – German Christkindlmarkt –  Schuetzenfest – Crab Feast.  We also sponsor German language courses for beginners and advanced speakers which are free of charge.
Monthly meetings begin with a meal, usually German in theme, and is followed by a general business meeting .
During the year, the BALTIMORE KICKERS sponsor and entertain visiting soccer teams as well as music groups and other visitors from Germany.
Free classes in German are offered at the Kickers' clubhouse at 4810 Gunther Avenue, Baltimore, MD  21206.
For more information, visit our website:
Or call Jo Kilbourn, Public Relations at 410.679.3337 and leave a message with your name and phone number and your call will be returned.