Deutsche Geselligkeit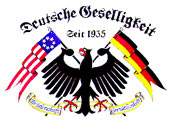 DEUTSCHE GESELLIGKEIT, INC.

FOUNDED: 17 January 1935

PURPOSE:
To provide assistance to the less fortunate and to work for and assist others.

OFFICERS:
| | |
| --- | --- |
| President | Rolf P. Sorg |
| Vice President | |
| Secretary | Rolf Engelhardt |
| Treasurer | Joseph Fellner |
| Financial Secretary | |
DEUTSCHE GESELLIGKEIT was organized in 1935 by a group of German men meeting at the home of Max Rohn.  Shortly thereafter, at the second meeting, it was decided to hold monthly meetings atLehmann's Hall.  A Constitution and the By-laws were adopted at the meeting and these have remained practically unchanged up to the present.
At the meeting held on 1 May 1935, it was decided to file papers for incorporation; DEUTSCHE GESELLIGKEIT was officially charted on 4 June 1935.
The annual functions and affairs for which the club is so well known were originated during that first year of incorporation.
DEUTSCHE GESELLIGKEIT, INC., as a charitable organization, has enjoyed a tax-exempt status since 1938.
In 1942 the club name was changed to Square Fellowcraft, Inc.; however, in 1957 the name was again changed back to the original.
This organization has held to its basic principle of helping the less fortunate within its circles.  The DEUTSCHE GESELLIGKEIT, INC. is not an exclusive organization in that it selects its members from certain groups — it welcomes worthy applicants of German heritage.
Having held a remarkable success during its sixty-five years of existence, it is the hope of DEUTSCHE GESELLIGKEIT'S membership that its start will not grow dim in the future, but will continue to shine with radiant brilliancy as long as it continues to practice true charity in working for and assisting others