Edelweiss Club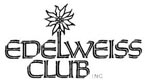 FOUNDED:   1966

PURPOSE:
To promote, foster and to encourage interest in German-American tradition and culture in a non-political and a non-sectarian manner; to support and participate in a German music and news broadcasting program; to hold social affairs in the German heritage tradition and in the spirit of time-honored Gemütlichkeit.

OFFICERS:
| | |
| --- | --- |
| President | Michael Schmidt |
| Vice President | Robert Hafenmair |
| Treasurer | Pat Vogt |
| Secretary | Cornelia Mueller |
| Financial Secretary | Michael Miller |
The Edelweiss Club had its beginning in early Fall of 1966 following the establishment of the weekly Edelweiss Hour radio program by Mr. Paul Ludtke in 1965.  Then, it soon became apparent that the Edelweiss Hour would need more sponsorship support, and Mr. Ludtke, together with family and friends, formed The Edelweiss Club as a separate organization to help provide financial assistance with the Edelweiss Hour.  The Club was formerly incorporated in late 1967 as "The Edelweiss Pleasure Club, Inc". The Edelweiss Hour remained an integral part of Edelweiss Club.
The Club grew rapidly to a peak membership of about 750 in the early 80's, but, in recent years has leveled off at close to 225 members. We are happy and proud of the fact that we are able to welcome members who not only reside in Maryland, but, also in the neighboring states. Through the years, the Sunday Edelweiss Hour with Paul Ludtke, and, at present, Lothar Boczek, has kept members informed of club activities.  Some of these activities have been luncheons, bus trips, cruises, trips to Germany, dances, bull roasts, crab feasts, and participation in the German Festival in Timonium.  It has always been the aim of the Edelweiss Club to provide its members and friends with fun and Gemütlichkeit.
Until 2005, The Edelweiss Hour with Lothar Boczek was one of the important means of making members aware of the Club's activities. Sadly, in April, 2005, the radio station was sold and the weekly Sunday morning program terminated by the new owners. Lothar has since recorded new Edelweiss Hour programs available on demand or via stream on www.germanamericanradio.com.
New members of The Edelweiss Club are always welcome. If interested, please contact the Secretary, Ms Cornelia Mueller at 410-719-2746 for more information.
The club has regular meetings on the first Wednesday of the month, except March, July and August.