Verien Deutscher Trachten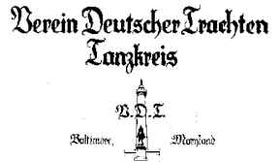 VEREIN DEUTSCHER TRACHTEN von BALTIMORE TANZKREIS
FOUNDED:    1 July 1979
PURPOSE:
The preservation and presentation to the public of the many colorful Trachten (Regional Costumes) of the Germanic Lands, as well as the dances, songs, history and traditions of the various regions of Germany.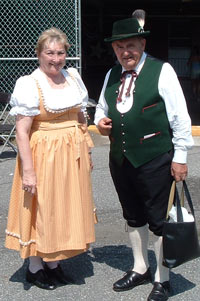 Maria & Richard Skowronek
OFFICERS:
| | |
| --- | --- |
| President | Marla Klaus-Skowronek |
| Vice President | Theodore Stephen |
| Treasurer | Richard G. Skowronek |
| Secretary | Maria Graziano |
| Assistant Secretary | Dottie Rothstein |
The enthusiasm of the public and the dedication of the orginal participating members in the cultural presentation "Deutsche Landschaft-Deutsche Tracht", at the 1979 German Festival in Baltimore inspired the forming of a new verein. The goals of this organization are strickly cultural. The members have dedicated themselves to the research and to the acquisition of authentically accurate historical Trachten of the regions of Germany or Austria from which each respective member has originated. For personal enrichment, the members research the history, landscape and the traditions of these areas as well.
In addition to the Trachten, the regional folk dances and folk songs are being preserved. The group meets every week to practice the dances and share ideas and fellowship.
VEREIN DEUTSCHER TRACHTEN has appeared at the German Festival, at the Maryland Oktoberfest, and in the General von Steuben Parade held annually in Philadelphia. It also performs at numerous events presented by the City of Baltimore and surrounding communities, as well as at events presented by German and other ethnic communities throughout the Maryland area.
The VEREIN makes appearances at many Community Colleges, Church Groups, Libraries, Hospitals and Nursing Homes, where it is always enthusiastically received and invariably invited to return. The group also participates in many charitable fund raisers. The group annually travels out-of-state to participate in events of other Trachten and dance groups. Enthusiasm and love of the Old Homeland radiates from the group and captures the hearts of their audiences.
The VEREIN is dedicated to preserving its German heritage and wants to call attention to the color and the diversity of the German Tracht, the history and the customs of the Germanic Lands in a spirit of pride and friendship.
VEREIN DEUTSCHER TRACHTEN meets every Monday evening at 8:00 pm at the Rolling Road School from September – June, and at St. Mark Hall in Fallston from June to September