Baltimoren Kickers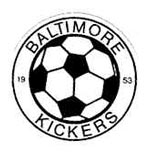 For current 1st team news, photos and stats, click:
BALTIMORE KICKERS SOCCER NEWSPAGEBALTIMORE KICKERS, INC.FOUNDED:
23 September 1953PURPOSE:  To promote soccer, the German language and German culture!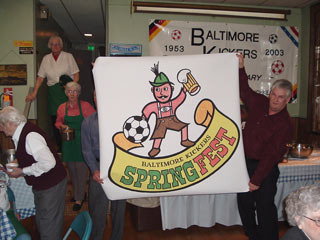 Kickers Springfest Banner being displayed at their clubhouse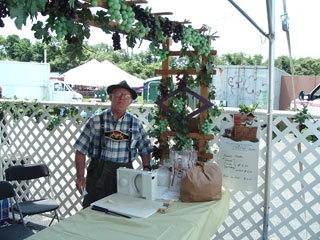 Hans' Wine Garden @ Kickers 1st Springfest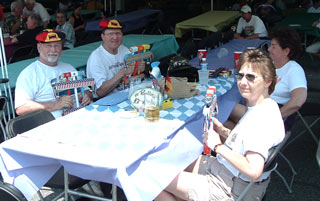 Springfest visitors with their wooden clappers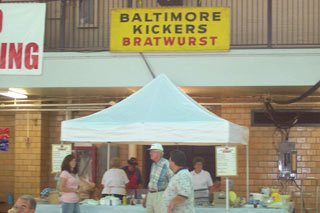 Baltimore Kickers "Brat Stand" @ Maryland Oktoberfest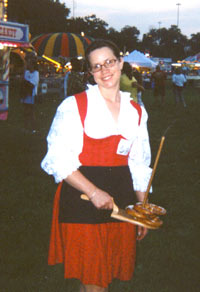 Volunteer worker Carrie Arnold.
Kickers 1st Springfest
OFFICERS:
| | |
| --- | --- |
| President |      VACANT |
| 1st Vice President | Bill Kelleher |
| 2nd Vice President | Celeste Heymann |
| Treasurer | Kathy Kotowski |
| General & Corresponding Secretary | Pat Vogt |
| Recording Secretary | Melanie Zwerlein |
| Financial Secretary | Michael Miller |
| Entertainment Chairwoman | Leslie Trageser |
| General Soccer Manager | Larry Luis |
| Public Relations | Josaphine Kilbourn |
| Culture Chairman | Hans Steffen |
| House Chairman |    VACANT |
| Directors-At-Large | Jim Thomas |
The BALTIMORE KICKERS, a German soccer club, has been in existence for more than fifty-five years.  It supports three soccer teams; the first team plays in the Maryland Major Soccer League and is affiliated with the Maryland State Soccer Association and the United States Soccer Federation in New York, the second team is the "Old Timers" (for those over thirty years of age), while the third team is a junior team.
A beautiful clubhouse at 26 South Broadway in the historical Washington Hill area is owned and operated by the club.  This was accomplished and is maintained through the dedicated efforts of many loyal, unselfish and enthusiastic volunteers of all age groups.
In the clubhouse there is a beautiful library and a room containing soccer memorabilia.  The basement is equipped for members and their guests to entertain themselves playing billiards.
Although the BALTIMORE KICKERS is primarily a soccer and social club, the membership avails itself of all opportunities to share with others the positive aspects of German culture and traditions including club-sponsored trips to Germany and Austria.
During the year, the BALTIMORE KICKERS sponsor and entertain visiting soccer teams as well as music groups and other visitors from Germany.  Free classes in German are offered at the clubhouse.
BALTIMORE KICKERS makes its clubhouse available to other clubs and organizations.
All club events are announced on the telephone HOTLINE (410) 276-4949.
http://www.baltimore-kickers.org